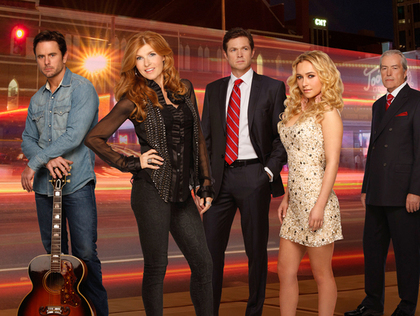 How much would you pay to meet your favorite country star… or actors that play them? From the cast of Nashville to Carrie Underwood, The Band Perry and more, country's biggest names have united on the auction block to offer fans unique experiences, all in support of a good cause. 
The cast of ABC's Nashville will be performing a private concert at the home of Rayna James, played by Connie Britton, and two lucky fans can now bid to receive coveted invites at Charitybuzz.com. The winners of the auction will get to head to the intimate event on September 14, 2014 and rub shoulders with Connie, Hayden Panettiere, Clare Bowen and more as they party the night away. Bidding is open at https://www.charitybuzz.com/catalog_items/484327 through June 18 in support of Leadership Music.
For those looking for a behind-the-scenes look at season 3, a tour of the set is also up for grabs, with the chance to meet cast members on the set as they film the southern drama Nashville is famous for. The writers of the show have been noticeably quiet about what to expect when the show returns this Fall, making this a perfect opportunity to get the scoop before anyone else. Bidding is open at https://www.charitybuzz.com/catalog_items/554140 through June 26.
That's not all – Lady Antebellum, Brad Paisley, Leann Rimes, Florida Georgia Line, The Band Perry, and Carrie Underwood are just a few of the musicians offering up exclusive concert experiences in support of their favorite charities. Bidding is open at http://www.charitybuzz.com/support/moc in support of Musicians on Call.