Farming is such a huge part of our culture, however it is often times overlooked.  The country music genre has been a big supporter of the farming community.

Each year Luke Bryan hosts a series of tours, The Farm Tour, supporting local farming communities.  A local college in each town is chosen and proceeds from the concerts go to a scholarship.  James Wesley released a song co-written by Dustin Lynch, Josh Thompson Steve Bogard, called "Thank a Farmer". The song  brings to light the significance of farming, a topic that many of us don't think about nearly enough. The lyrics are deep and immediately hit home. The first verse consists of strong lyrics such as, "From the fuel that fills your truck, To the coffee in your cup, Don't thank the corner store, Or that early morning rush, Thank a farmer."  Easton Corbin, a former FFA Member, has currently teamed up with RAM Trucks for the "Year of the Farmer" initiative, a multi-tiered program highlighting and underscoring the importance of farmers in America. 
CountryMusicRocks has teamed up with America's Farmers Family to showcase The Boyd Family.  Will and Wendy Boyd along with their children Wilson, Weston, Waylon and Wenslie, are located in Sylvania, Georgia.  The family raises cotton, peanuts, corn, cattle and vegetables on their farm in eastern Georgia.  Will and his brother Ben farm with their father Olin.  Farming has been in their family for five generations and it will no doubt stop there.  The Boyd's family motto is "Farming isn't what we do. It's who we are." – WILL BOYD
Learn more about the Boyd Family by clicking HERE.
Keep up with America's Farmers Family and learn more about the farming community by visiting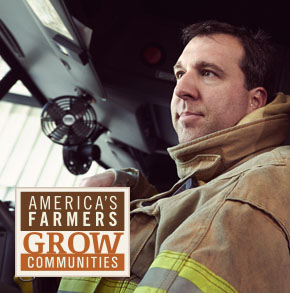 This post was created in partnership with America's Farmers. All opinions are my own.