***CONTEST CLOSED***
Congratulations Marie L.
CountryMusicRocks has teamed up with America's Farmers to showcase the importance of the farming community.  The country music genre has been and continues to be a big supporter of the farming culture which is a huge part of our everyday lives, however, often times overlooked.

We'd like to take the tame to showcase another America's Farmer Family and give our readers a chance to win a $25 Visa Gift Card. 
CountryMusicRocks is showcasing The Woodrow Family .  Kelly and his wife Shelley, along with their sons are from Springerton, IL, and grow  corn, wheat, and soybeans. Kelly has been farming since he was 18 years old and continues with the help from his sons and his father, who sometimes comes to the farm and drives the tractor around.  The Woodrow's family motto is "I think we're the best in the world at what we do, so I think it's up to the American farmer to keep improving the technology, to keep being a better steward to the land, to keep doing better with the quality of grain, to keep feeding the world. I think as long as we do that, we'll all survive and we'll all make a good living. That's what it's going to take, everybody working together." – KELLY WOODROW  Learn more about the Woodrow Family HERE.
To enter to win a $25 Visa Gift Card, please visit the America's Farmers website and select a family that inspires you the most. Meet each of the families HERE, Like us on Facebook and fill out the form below.  A winner will be randomly selected after the contest closes on April 6.  One entry per person.  Good Luck!

Please select a valid form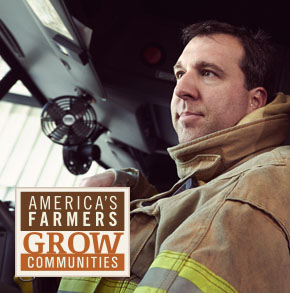 This post was created in partnership with America's Farmers. All opinions are my own.