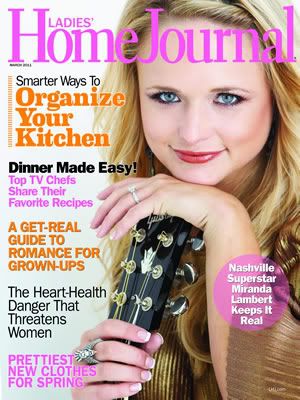 Miranda Lambert is covering the March 2011 issue of Ladies Home Journal. Miranda opens up about her relationship to fiance Blake Shelton, her career, weightloss and even the couple's living arrangements.
"When Blake gets on my nerves, I can go home" — and expects they will continue to live this way even after they get married. "We hang out at one farm or the other, depending on the night," she says, explaining that her place is decorated with "girly" things while his house features "dead animals" mounted on the walls. "It works for us."
Miranda also reveals a few of her favorite things to LHJ:
Charity: When I moved to Oklahoma there was no dog rescue shelter nearby and there were so many stray dogs it was sad. Blake and I did two benefit concerts to raise enough money to build a local shelter.
Book: Shopgirl, by Steve Martin. I read a lot of chick lit on the road.
Food: I'm trying to learn to cook healthy things. But I like hamburger and meatloaf and mac-and-cheese, stuff I can't have if I want to stay in my jeans!
Hobby: I try to think of new things so I won't get stale. Three years ago I bought a horse and I did my first barrel race in May. You go real fast around barrels in a rodeo. I'm not real good but I'm working on it!
Be sure to pick up the March 2011 of Ladies Homes Journal on newsstands NOW to read the entire feature.